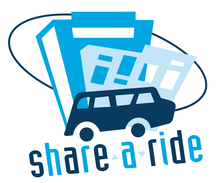 Looking to share the ride while I-95 is closed? Tired of fighting traffic in general and arriving to work stressed and frustrated? Want to save money on gas and maintenance expenses?
View the Share-A-Ride flyer and keep reading to find out more!
---
We've upgraded the Share-A-Ride website, with more features and new incentives! Now you can earn points toward rewards every time you record your shared commute! Check out the new site at pacarpool.org or sharearide.agilemile.com.
Share-A-Ride is a free, computerized service that can match commuters who work in southeastern Pennsylvania with convenient transit services, potential carpool and vanpool groups, and even walking and bicycling opportunities. Employers can get on board, too, by locating matches just for employees at a specific site(s).
By sharing the ride to work, commuters can save money and reduce the stress of getting to and from work. And you can breathe easy, knowing you are helping to keep the air cleaner, too!
Incentive for New Carpools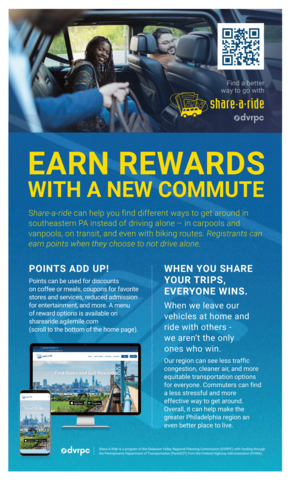 Gas prices don't have to get you down. New carpools formed through the Share-A-Ride program can qualify for up to $100 in Sunoco gas cards. Contact the TMA near your worksite to learn more and sign up!
Check our Frequently Asked Questions for common questions about Share-A-Ride.
Submit your Share-A-Ride application. You should hear about potential matches within 2 business days.
For more information:
This program has been made available by DVRPC through funding from the Pennsylvania Department of Transportation (PennDOT).