The Futures Group is a collaborative, transdisciplinary group of subject matter experts and interested stakeholders that meets on a quarterly basis to discuss emerging trends and forces (social, technological, environmental, economic, or political) and how they are shaping the Greater Philadelphia region. Every four years, a subset of the larger Futures Group—The Futures Working Group—conducts an exploratory scenario planning exercise as part of the Long-Range Planning process. Dialogue within the Futures Group benefits both DVRPC and the group's participants who are able to take what they learn back to their organizations.
Scenario Planning Reports
Dispatches from Alternate Futures: Exploratory Scenarios for Greater Philadelphia explores four plausible future scenarios based on different directions that technology, climate change, and rising inequality could take. It was developed with the Futures Working Group and will help inform the vision and strategy development for the Connections 2050 Plan.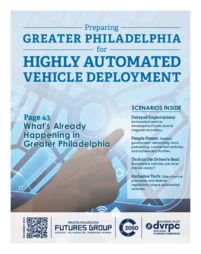 Preparing Greater Philadelphia for Highly Automated Vehicles extends the Dispatches scenarios to consider different ways highly automated vehicles may be deployed on the region's roads. The report explores the implications of each scenario and identifies recommendations to start preparing for automated vehicles and related transportation technologies.
Past Reports
The Futures Group helped to develop previous DVRPC scenario planning exercises, which informed the Connections 2045 Long-Range Plan.
Meetings
Archived Meetings
Interested in Learning More?
The Futures Group is focused on cultivating member and speaker diversity and would value your participation.