The transit industry is experiencing an increasing number of workforce recruitment and retention challenges. The transit industry must address multiple factors that contribute to this dilemma. Often transit agencies find themselves unable to fill positions and retain employees, especially in the recent period of near full employment in the United States (March 2019). Research indicates that approximately 50% of the transit industry's workforce will retire over the next 10 years. Due to this demographic shift, demand for increasingly sophisticated skills, gaps in training, and industry perceptions, the transit industry needs to address these workforce and human capital issues that are critical to the continuing success of the industry.
In partnership with the Temple University Fox School of Business Center for Executive Education, staff have been involved in a research project focusing on regional transit workforce challenges. The purpose is to pinpoint the workforce issues and barriers confronted by transit agencies and potential workers, and to identify solutions for how they can be addressed.
What We Think We Know
In March 2020, DVRPC published the initial findings in a white paper, What we Think we Know [0.5 MB pdf]. This report is the culmination of primary and secondary research conducted from September 2018-March 2020. The report identifies 5 themes that are most concerning to transit and workforce development stakeholders. The report also serves as a reminder of the challenges the transit industry was facing pre-COVID-19 and will help transit industry leaders develop a path forward through recovery. Below are the survey highlights from transit and workforce development practitioners on what elements are still important post-COVID-19.
29%prioritize developing new partnerships
29%improved process will be most impactful
47%creating new pathways presents the biggest challenge
77%perception of the industry will be the most important in 6 months
71%felt that pathways will be even more important in 6 months
Themes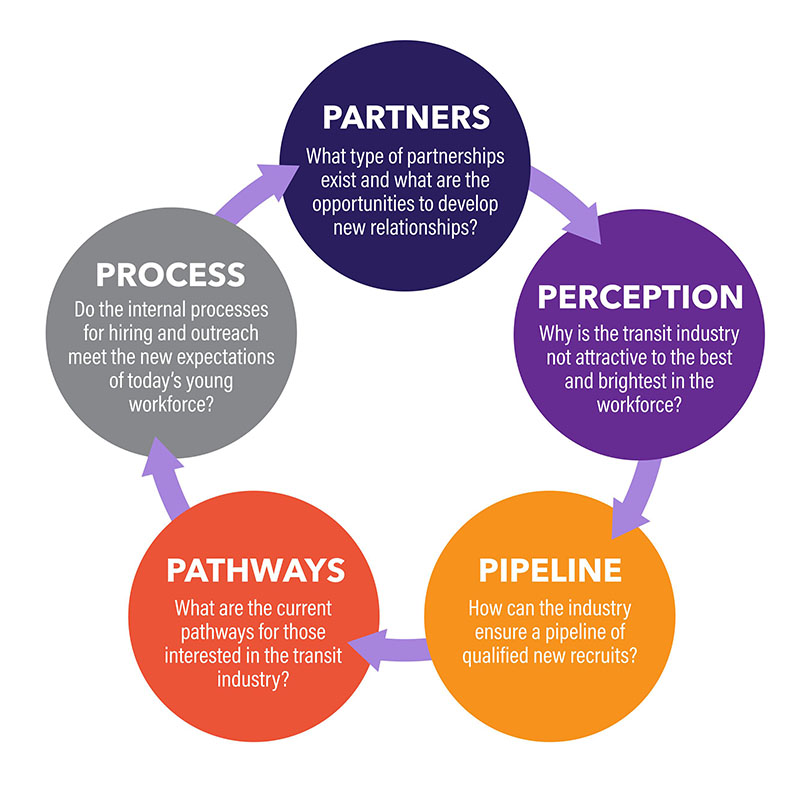 Workshops and Actions
A Path Forward (May 2021)
On December 16, 2020, the research team met with selected individuals at NJ Transit, PATCO, and SEPTA to discuss the action plan and how COVID-19 has impacted this project's previous findings. As is now well-known, at the end of March 2020, both New Jersey and Pennsylvania Governor's ordered aggressive social distancing measures to help stop the spread of the COVID-19 virus. These actions brought government offices, schools, businesses, and travel to a halt, resulting in sharp decline in transit ridership along with a pivot in normal operations for all transit staff. Safety and job retention became new focal points. Representatives of the transit agencies acknowledged that the pandemic's long-term impact is still unknown but thinking about continuity of operations is still underway. A Path Forward provides an action plan for transit agencies.
Addressing Turnover and Turmoil in the Transit Industry (June 2020)
This webinar featured a panel of transit and workforce development professionals that presented the research to date, spoke in depth about a variety of challenges within the transit industry from pipeline development to hiring practices to developing the right partnerships, addressed how standards for hiring and retention are difficult, and finally, how will all of this change due to the COVID-19 pandemic.
Recording (originally recorded on June 2, 2020)
Webinar Evaluation
Addressing Turnover in the Transit Industry (May 2019)
DVRPC and Temple University hosted an initial design-thinking workshop to pinpoint the contributing factors that have led to hiring and retention challenges within the transit industry. Learning from a panel of professionals in the transit and workforce development industries, participants worked in groups to think through the problems and uncover solutions to mitigate the challenges of attracting and retaining the next generation of transit workers.
Agenda [0.1 MB pdf]
Highlights (PDF) [0.2 MB pdf]