Mobility Analysis and Design
DVRPC is committed to the region-wide promotion and implementation of a safe, convenient, and seamless multimodal passenger and freight transportation system. The Office of Mobility Analysis and Design supports the DVRPC long-range plan, Connections 2045, and the Congestion Management Process (CMP). Projects focus on developing solutions that will increase accessibility and mobility, improve safety, and enhance the quality of life along transportation corridors and sub-areas in the region. Mobility Analysis and Design studies provide direction for transportation decisions based on analysis of transportation performance measures, cost evaluations, and public participation.
FY2020 - FY2021 Mobility Analysis and Design Studies include:
---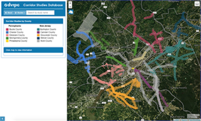 Completed Mobility Analysis and Design Studies Database
View and identify DVRPC completed studies. Information such as name, year, county and abstract information can be reviewed.