The region's long-range plan, Connections, targets the region's core cities and older suburbs for renewal and revitalization, and advocates for increasing diversity as a way in which to ensure the region's communities are resilient, inclusive, and vibrant. Communities that offer a variety of housing options, provide walking and bicycle trails, are accessible to transit, and evoke a strong sense of local identity are not only diverse, but they also enable greater resiliency during periods of crisis or change.
In addition to its various studies and analyses, DVRPC also provides numerous tools for the region's municipalities to invest in smart development, and to reinvest in their communities, in order to fortify and ensure the ongoing and future resiliency of the region.
Retail Districts Inventory
An update to DVRPC's 2013 retail district inventory was completed in 2020, and the findings are presented in this webmap. The update provides a detailed look at the mix of uses found in 75 of the region's downtowns, main streets, and retail districts, as well as the ability to compare both sets of findings for the 71 downtowns analyzed in 2013.
As part of the original effort in 2013, DVRPC published a report on older suburban communities that highlighted elements commonly found among 71 successful suburban retail districts. Outlined within the report are short-and long-term strategies to help local officials revive older districts to further their economic development goals.
Although an update to the 2013 report was not part of the 2020 scope of work, given that the strategies contained within the 2013 report remain relevant today, a report was published containing strategy recommendations for how to plan for a post-pandemic economic recovery. Strategies in this report focused more specifically on how traditional brick-and-mortar retail can better compete with the rise of online retail.
5 Ps that Aren't Pandemic
The public health crisis caused by the COVID-19 pandemic quickly led to an economic crisis in the days that followed government-mandated stay-at-home orders. The impacts on the region's retail and service industries, and subsequently the region's downtowns, main streets, and retail districts, were felt immediately. DVRPC adapted its work to address the immediate needs of the region, and launched its 5 Ps that Aren't Pandemic social media campaign.
The Five Ps:
Pursue funding from one or more of the many federal, state, county, or local programs aimed at helping small businesses weather the economic impacts of COVID-19.
Pivot from your current business model and start manufacturing or selling goods, services, and products that are needed during the pandemic.
Pitch ideas on digital platforms to generate interest in and connect you with funding for future product lines or services.
Promote your brand online via social media, and maintain a web page for your business in order to generate revenue via e-commerce.
Plan not only by developing a strategy to get your business through the current crisis, but also for how it will recover once society and the economy return to a new normal.
By leveraging social media, DVRPC was able to disseminate relevant information in the most effective and timely manner possible under the circumstances at that time.
Following the campaign, a comprehensive report was published containing all of the tools and strategies promoted during the campaign. Additionally, a technical assistance webinar was held on June 23, 2020, that focused on the 5th P: Plan for recovery.
Location Analytics
As part of the 5 Ps that Aren't Pandemic effort, DVRPC identified location analytics as a valuable tool for assisting the region's downtowns in planning for a post-pandemic economic recovery. To understand the pandemic's impact on visits to and the trade areas of the region's downtowns, location analytics were conducted for 75 of the region's downtowns.
Below you will find interactive data dashboards comparing visits to and trade areas for each of the downtowns both before and during the pandemic. You can also download a data dashboard comparing 23 former Classic Towns here (please note that you will also need to download Tableau Reader in order to view the file).
Interactive Data Dashboards

Bucks County

Burlington County

Camden County

Chester County

Delaware County

Gloucester County

Mercer County

Montgomery County

Philadelphia County
Diverse Downtowns
Over the winter of 2020-21, DVRPC combined data from both the retail district inventory update and location analytics efforts to determine what characteristics were common amongst communities that were less impacted by the COVID-19 pandemic.
This analysis found that economically, physically, and socially diverse downtowns were generally more resilient than downtowns that were less diverse.
Characteristics of More Resilient Downtowns
Development: Recent mixed-use, residential, and retail developments within the downtowns increased diversity as well as resiliency.
Diversity: Downtowns with diverse built environments, demographics, local economies, mix of uses, and transportation options, were less impacted.
People: Diverse and permanent residential populations located within the downtowns provided retailers with customers even as people stayed close to home.
Trails: Existing Circuit Trails connected downtowns with open space and enabled alternative modes of transportation.
Walkability: Historic downtowns with more pedestrian-friendly built environments had greater resiliency.
As a result of this analysis, all 75 downtowns were assigned a Diversity Score and a Pandemic Impact Score on scales of 1—100, with one being the most diverse and least impacted. The scorecards for the ten least impacted downtowns were highlighted on social media throughout the spring of 2021, and all 75 scorecards were emailed directly to the respective municipalities during that same period as well. You can find the scorecards for each downtown located below.
Diverse Downtown Scorecards

Bucks County

Burlington County

Camden County

Chester County

Delaware County

Gloucester County

Mercer County

Montgomery County

Philadelphia County
Photo Challenge Giveaway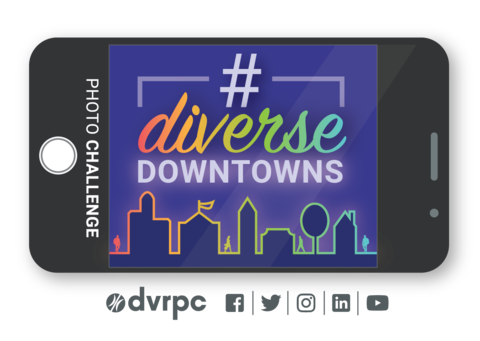 Greater Philadelphia's #DiverseDowntowns are vibrant places with a mix of civic, cultural, office, residential and retail uses; have diverse architecture, bustling businesses, entertainment venues, and recreational opportunities; and have multimodal transportation options. DVRPC is sponsoring The #DiverseDowntowns Photo Challenge Giveaway as an opportunity to share what adds to the diversity and vibrancy of the region's diverse downtowns and Greater Philadelphia as whole.
The Challenge Giveaway is open to anyone 18 years of age or older. A total of six prizes — valued at $50 each — will be given away at the conclusion of the Challenge Giveaway.
On Friday, August 13, 2021, one submission for each of the categories below will be randomly selected. The selection will be based on which submission best showcases that category.
Submission Categories:
Local coffee roaster, craft brewery, distillery, restaurant, retail shop, or vineyard tasting room
Historic buildings, landmarks, and sites
Buses, trains, trolleys, stations or stops
Located in one of the region's Core Cities: Camden, Chester, Philadelphia, or Trenton
Academic and cultural institutions (e.g. social clubs, colleges, religious organizations, etc.)
Adapting downtown to COVID-19
Photos must be submitted digitally via social media platforms using the hashtag #DiverseDowntowns, and must include the location of the photo and DVRPC must also be tagged. Photos will be accepted between July 1, 2021 and August 12, 2021. Photos submitted after midnight on August 13, 2021, will not be considered.
Please be sure to review the complete list of rules, restrictions, and requirements for the #DiverseDowntowns Photo Challenge Giveaway before submitting your photos:
#DiverseDowntowns
Use #DiverseDowntowns and tag @DVRPC on social media to be entered into the giveaway, and below you can see what others have shared so far!
Municipal Tools and Programs
Breaking Ground Conferences

Breaking Ground is a conference series that DVRPC holds every few years to highlight plan and project implementation throughout the region. The most recent conference was held virtually in May and June 2021; presentations and proceedings are available on the Breaking Ground webpage.
Brownfields / Greyfields

Connections 2045 prioritizes the reuse and cleanup of underutilized land in the region's older suburbs and communities. Brownfields and greyfields offer communities the opportunity to diversify their economy and housing options.
Classic Towns of Greater Philadelphia

Classic Towns of Greater Philadelphia (CTGP) was a community branding and program that promoted the assets of living in the region's older communities and neighborhoods.
Transportation and Community Development Initiative (TCDI)

TCDI provides grant funding for projects that focus on linking land use and transportation planning by:

Improving the overall character and quality of life;
Enhancing the existing transportation infrastructure capacity;
Promoting and encouraging the use of transit, bike, and pedestrian transportation modes;
Building capacity in our older suburbs and neighborhoods;
Reinforcing and implementing improvements in designated Centers; and
Protecting our environment.